Biography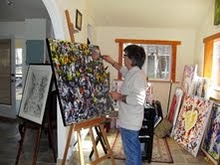 Originally from France, Edward Welter has learned his true passion in life is bringing people joy through art. Welter quickly became known worldwide for his range of vibrant colors and vivacious gestures, incorporating a blend of expressionism, abstraction and lyricism. The French-born artist loves to share his passion for meditation, healing and spiritual connection through his artwork, which is Mysterious, Magnetic & Enigmatic!
These paintings are Powerful, Spiritual, and exude Optimism with an ever present message of Hope, Meaning & Comfort.
He has exhibited internationally and currently holds several permanent & temporary exhibitions. His work is listed with The Famous French Auction House Drouot, and he was recently the recipient of rave reviews from Jean-Paul Gavard-Perret, Savoie University Professor & Renowned Art Critic.
Edward recently moved his studio to Mound Shasta, CA, so he can encompass the inspiration he receives from the Shasta Mountain in his highly anticipated new paintings. Having a deep personal connection with his paintings, it is vital he is inspired by the scenery around him. No place has moved him more than the natural beauty of Mount Shasta, a sacred mountain in the Cascade Range.
The aspect of Spirituality is underscored in all works, however the ultimate translation and meanings are left to the viewer, as each person sees something entirely different in these seemingly simple yet complex paintings. The level of dimension is never ending, as new details are brought to the forefront with each view.